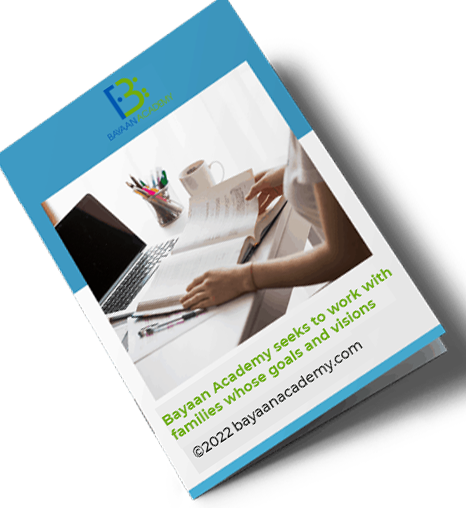 Admission Process
Bayaan Academy seeks to work with families whose goals and visions align with those of our school. Our admission process is as
Note:
We accept applications throughout the year, but admission is contingent upon the availability of open seats in a given grade.
Upon submission of the application form to the school, the administration will contact you for additional documents. This typically takes three business days
Previous school report card
Current school report card (if transferring during the academic year)
Prior portfolio review by the county if formerly homeschooled
For homeschooled students:
Picture snapshot of the last writing assignment the student completed on their own
Last math assignment done by the student
If needed, a placement test is scheduled. Please note that we take into great consideration the feedback we receive from parents and what the student has actually completed as compared to the test. This is due to the fact that some students are not effective test-takers.
The student may be evaluated on the basis of:
(1) a diagnostic test for Language Arts, Mathematics, and Arabic Language,
(2) interview, and
(3) previous school performance.
Foreign language placement is based on the proficiency of the student rather than grade.
Upon successful completion of the evaluation process, parents will be informed of admission through an email sent to the address listed in the application form. Bayaan aims to maintain a low teacher-student ratio.
If seats are full, students will be placed on a waiting list and parents will be informed accordingly.
There is a $200 registration fee in addition to a $300 tuition deposit which is applied towards the annual tuition.
Note: This is a non-refundable deposit due at the time of registration. Parents must pay this fee to secure their child's spot in the class
Tuition fees are paid in advance by the 7th day of the month.
Students with an outstanding balance from the previous year will not be allowed to re-enroll with Bayaan until the payment has been made in full.
Unpaid balances may be turned over for collection unless an approved waiver from the school director is given in written form.
Note: This tuition amount is subject to change prior to the beginning of each academic year.
Once the student is officially enrolled at Bayaan Academy,
Parents will receive an onboarding email along with the student's personal login credentials to access the LMS, live classes, and curriculum. The schedule for live classes is also attached in the email. Students can use those credentials and have access to the academy instantly.
Orientation session is conducted for every student with their parent to facilitate the onboarding process with the Academy.
Please contact the academy if you have not received notification of your child's enrollment within 5 business days of enrolling. It's possible the admissions email may have gone to your spam folder.